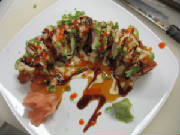 TOGOSUSHI
1600 N. HWY 190, Unit 1
Covington, LA 70433
985-892-8988
Good News:
We do deliver! We have coupon for you also.
See details @ order online and coupon section.
Deliver minimum order: $30.00
Fee: $5.00 cover 3 miles range. Any additional mile
will add $2.00/mile.
Deliver time: Mon.--Thurs. 11:00A.M.-2:30P.M.
5:30P.M.--8:30P.M.
Sat. 12:00P.M.--10:00P.M.
Sun. 5:00P.M.--8:30P.M.
Range area: Most Covington and Mandeville routes.
Thanks,
Togosushi